You will learn licks from Angel, Valley of Eternity, Inferno, 11 Blue Egyptians, Canon ala Koto, Wicked Panecea and the eastern sounding run from Holy Wars.
The licks are taught in small chunks, at a slow tempo and then pieced together into larger phrases. Once you have the whole lick down at a slow tempo, use the Riff Axelerator interface to incrementally increase your speed while you play along.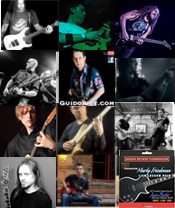 The instructors in the pack include - Guido Bugenstock, Ben Higgins, Jonas Tamas, Sam Bell, James Ryan, Simon Hosford, Jimmy Lardner Brown, Joe Gettler, Guido Bugenstock, Ewan Dobson, Gregory Bolomey and Charlie Shaughnessy. To help speed up the process, Levi Clay has transcribed several licks in this pack with final approval from Marty Friedman himself!